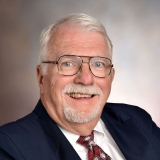 Awards
Distinguished Alumni Service Award (2017)
Z.G. Clevenger Award (1992)
About Raymond E. Pavy, Jr.
Ray Pavy was a member of the IU basketball team during the year he was involved in a car accident which left him paralyzed from the waist down. Despite this tragic setback, Pavy was determined to earn an IU degree and become a basketball coach. Professors and fraternity brothers, alike, offered their assistance and he was able to earn a bachelor's degree from IU in 1965.
Pavy completed a master's degree from Ball State University and began a successful coaching career. He later rose through the ranks and became assistant superintendent in the New Castle school system, retiring after 31 years of service.
Inducted to the Indiana Basketball Hall of Fame in 1990, Pavy also received due recognition from Ball State University, winning the Disabled Student Development's Outstanding Alumnus Award. IU honored him with the Z.G. Clevenger Award in 1992.
Throughout his career, Pavy has shown tremendous resilience and an unwavering dedication to public education.