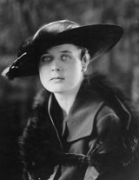 Awards
Honorary Degree (1967)

Litt.D.
Doctor of Letters
Founders Day
Bloomington, Indiana
Presenter: Elvis Jacob Stahr, Jr.
About Jeannette Covert Nolan
Jeannette Covert Nolan was born on March 31, 1897 in Evansville, Indiana. After graduating from the Evansville School System, she worked as a reporter and features writer for an Evansville newspaper. She credits her experience as a reporter in helping her prepare for her work as a writer. Her first book, Barry Barton's Mystery, was published in 1932.
Ms. Nolan worked as a staff member at the Indiana University and the Rocky Mountain (University of Colorado) Writers Conferences. She was also an instructor on juvenile writing at Indiana University Extension, Indianapolis (currently Indiana University/Purdue University at Indianapolis). During the early 1940's, she wrote a column, "Lines with a Hoosier Accent," for the Indianapolis Star.
Ms. Nolan wrote one book, John Marshall, the Great Chief Justice (1961) under the pseudonym Caroline Tucker, her grandmother's name. Many of her books have been selections of the Junior Literary Guild and she has been awarded The Indiana Authors' Day Award for the "most distinguished juvenile book by an Indiana author."
During her lifetime, Ms. Nolan wrote over forty-five children's books including biographies, essays, and historical non-fiction. Although she wrote for both children and adults, she is most noted for her work in children's literature. In 1961, she was awarded the Indiana Authors' Day Award for Spy for the Confederacy. In 1968, Ms. Nolan was added to the Indiana University Writers Conference Hall of Fame. The next year she was named a Litterarum Doctor, an honorary doctor of letters and literature. She died on October 12, 1974.