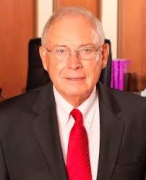 Awards
Bicentennial Medal (2019)
Z.G. Clevenger Award (1985)
About Peter L. Obremskey
Peter L. Obremskey received his undergraduate degree in 1958 and graduated from law school in 1961. In addition to his academic pursuits, he was on the varsity basketball teams of 1956, '57, and '58. Obremskey served two terms on the IU Board of Trustees (1998-2004).
After graduation from law school, Obremskey entered the Air Force and during three years there as a trial and defense counsel was admitted to practice before the Supreme Court of the United States and the US Military Court of Appeals. Honorably discharged as a captain in 1964, he joined the law firm now known as Parr, Richey, Obremskey and Morton in Lebanon, where he and his wife, Sandy, have lived for more than 20 years.
Obremskey served as president of the Indiana Trial Lawyers Association, and was a member of the board of managers of the Indiana State Bar Association, past president of the Boone County Bar Association and a fellow in the American College of Trial Lawyers and the Indiana Bar Foundation. In addition to the US Supreme Court and the Indiana Supreme Court, he has been admitted into practice for the Second and Seventh Circuits of the United States Court of Appeals.
Obremskey has found time to serve his alma mater and community as well. An active member of the IU Varsity Club, he is past president of the Varsity Club national board of directors, past president of both the Lebanon Chamber of Commerce, and the Lebanon Jaycees, and was on the Boone County Sheriff's Merit Board. He has served on the board of directors for the YMCA, the Boy's Club, and is a member of the American Legion and Elks Club. Obremskey also assisted in US Olympic fund raising.
During his two terms on the IU Board of Trustees he advocated the highest expectations for academic excellence at IU. He worked diligently to improve communications between the trustees and the faculty. As chair of the trustees' Policy Committee (2002-2003), Obremskey worked closely with the University Faculty Council as they overhauled the Master Course Inventory in order to facilitate intercampus transfers (ICTs), producing a policy that ensured identically numbered courses would transfer seamlessly between campuses, as well as a procedure to facilitate intercampus cooperation and knowledge-sharing when one campus desired to offer a course hitherto offered on another campus.
Obremskey received the IU Bicentennial Medal in September 2019 in recognition of his distinguished service as a member of the IU Board of Trustees.