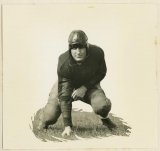 Awards
Z.G. Clevenger Award (1985)
About Raymond F. Dauer
Ray Dauer, a native Hoosier, is a leading citizen of Seymour. Upon his graduation from Emerson High School in Gary, he entered IU, where he was a three-year letterman under Coach Billy Hayes. He played quarterback and placekicker on offense, and halfback on defense in football, where, as a senior, he was third highest in minutes played. He was also a guard in basketball for Coach Everett S. Dean and, as a graduating senior, was awarded IU's Big Ten Medal for scholarship and academic prowess.
Upon graduation, Dauer was recruited by General Electric Company for its Management Training Program. Over the years in locations throughout the eastern United States, he advanced through various levels of management, completing his GE career as a plant manager for the air conditioning division. While with GE, he also found time to teach in university business administration schools at Northeastern and Rhode Island state universities; refereed high school football games; headed his 1934 class reunion's golden anniversary fund drive; and served three years as United Way chairman.
After leaving GE, Dauer and his wife, Rowena, moved to Seymour, where he began a second career as vice president and trust officer for the Seymour National Bank. In addition, he has served as president of the Seymour Museum, the IU Alumni Club of Jackson County and the Seymour Rotary Club; chairman of the city's Industrial Development Commission, and is a Rotary Paul Harris Fellow.