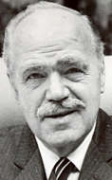 Awards
Z.G. Clevenger Award (1984)
Kelley School of Business Academy of Alumni Fellows (1977)
About P. Stuart Holmquest
Lettering in IU football and baseball, Holmquest came to IU in 1931, following graduation from Oak Park High School in Chicago, Illinois. He received a B.S. degree in business administration in 1937. Before his retirement in 1979, Holmquest served as chairman of CEO, Brockway, Inc., vice president, sales, Thatcher Glass Co., and manager, glass container division, Armstrong Cork Co.
In 1977 Holmquest, who served on the IU School of Business dean's advisory council, received the school's "Academy of Alumni Fellows" award. His other IU activities have included national fund chairman for the 1978 IU giving campaign and membership the same year on the IU Foundation board of directors.
After his death in 2006, a scholarship at the Kelley School of Business was created in his name and funded by his estate.