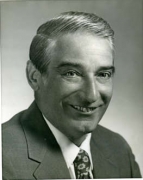 Awards
IUB Athletics Hall of Fame (1985)
Z.G. Clevenger Award (1984)
About Robert C. Dro
Robert C. Dro, a native of Berne, won three varsity letters in both basketball and baseball while attending IU. He was a member of the 1940 basketball team that won Indiana's first NCAA national championship, and in 1941 he was named to the All Big Ten and Look magazine All-American teams.
Upon graduation in 1941, Dro played professional basketball for the Indianapolis Kautsky team and baseball with the Brooklyn (now Los Angeles) Dodgers organization. He was named assistant athletic director at IU in 1957 and associate director in 1973. From 1975-76 he was in charge of the athletic department while the search and screen process for a new director was underway.
In 1976, Dro was appointed IU director of community relations, a position he held until his retirement. He was named to the Indiana Basketball Hall of Fame in 1978 and in 1980 was made both a Sagamore of the Wabash and a Kentucky Colonel.
Dro played basketball from 1939-41, baseball 1939-41, and was a starter on 1940 championship basketball team. He was an honorary captain in 1941, when he was All-Big Ten selection and Look Magazine All-American. He played professionally in both sports, in basketball with Indianapolis Katusky's, in baseball with Brooklyn Dodgers organization, and served IU for over 30 years as assistant and associate athletic director and as member of University Relations staff.