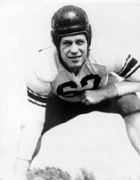 Awards
IUB Athletics Hall of Fame (1993)
Z.G. Clevenger Award (1983)
About Russell J. Deal
Russell J. Deal came to IU to play football in 1940 from Bicknell. Named an I Man in 1941-42, he served in the U.S Army from 1943-44 and then returned to IU in 1945. In 1946, Deal was named to the All Big ten football team, and that same year played in the Blue-Gray Game. The following year, he played in the College All-Star Game.
Upon graduation, Deal went to Hobart High School to become assistant football coach. in 1948, he became head football coach and continued in that position until 1966. Deal then served as principal of Hobart Junior and Senior High School until his retirement in 1979.
Russell won football letters in 1941, 1942, 1945 and 1946, and was captain of IU's undefeated Big Ten Championship Team in 1945. He was All-Big Ten in 1946 and third team All-American as a tackle in 1945. Russell played in 1946 Blue-Gray football game and is a 1976 Indiana Football Hall of Fame recipient. He won the Z.G. Clevenger Award in 1983 and became an outstanding high school football coach at Hobart.