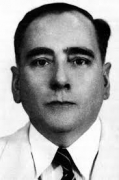 Awards
Honorary Degree (1975)

LL.D.
Doctor of Laws
Commencement
Indianapolis, Indiana
Presenter: John William Ryan
About Alberto Arca-Parro
As a citizen of Peru and of the world, Alberto Arca-Parro was best known as a tireless proponent of demographic planning, an interest he acquired as a student of economics at Indiana University in 1921 and 1922. As a participant in international affairs, member of the Peruvian Congress, economist and lawyer, he has pursued a career of significant service in a number of roles.
He was born in Ayacucho, Peru, in 1901. After attending Indiana University, he returned to Peru to attend San Marcos University, where he studied political science and economics and earned his law degree. His subsequent career was dedicated in large measure to the social and statistical dimensions of population data, in Peru, in other Latin American countries, and in international contexts.
Arca-Parro served as Director of the Peruvian Electoral System Office in 1930 and 1931, and as Director of the National Census Office from 1938 to 1941. In these roles, he contributed to the writing of the country's Electoral Law and to the taking of a national census, the first such census since 1876. He then served as advisor for later censuses and as an advisor to Chile, Venezuela, and Brazil. In 1964, he became President of the Center for Studies on Population and Development in Peru. In 1970, he was Chairman of a study group that prepared a comprehensive demographic report on the country.
During his nearly 20 years as an elected member of the Peruvian Congress, he introduced a number of bills that became laws. Among other matters, this legislation concerned the budgetary system, economic development, national statistical functions, and the establishment of regional universities. He also headed key committees of the Congress and participated in drafting laws in various fields.
His international activities included representing Peru at assemblies and conferences, a number of which were under the auspices of the United Nations. In 1947, he was elected as the first President of the Population Commission of the Economic and Social Council of the U.N. Both as a delegate of Peru, and in a personal capacity, he has taken part in many such activities in Europe, Israel, and the United States.
On several occasions, Dr. Arco-Parro has renewed his association with Indiana University. He returned to the Bloomington campus in 1942, at the invitation of President of the University, Herman B Wells, to participate in a conference on Latin American affairs. He also has assisted several of the University's students of the Peru Overseas Study Program in Lima with their research projects.
He was professor of the Colegio San Andrés in Lima. A specialist in demography and social statistics, Arca Parro was a member of the committee of jurists and intellectuals who prepared the draft of the 7177 Decree creating the National Jury of Elections. In Venezuela he hosted a population census and in 1938 he was commissioned to prepare one in Peru. Parliament was also featured in the ranks of the National Democratic Movement, founded by Manuel Prado Ugarteche.
He died in Lima, Peru, in 1976.