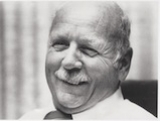 Awards
IUB Athletics Hall of Fame (2011)
College of Arts and Sciences Distinguished Alumni Award (1982)
Z.G. Clevenger Award (1977)
About Robert H. Menke
Robert H. Menke was born in Huntingburg on October 15, 1919. He held a variety of jobs in his youth, including stringing Venetian blinds in his father's factory, working production in various local wood factories and later selling wooden scoreboards to high schools in Indiana for his father's company. In 1937 he graduated from Huntingburg High School where he was a member of the 1937 state finalist "Happy Hunters" basketball team and winner of the Gimble Award (now the Trester Award) "for superior achievement in athletics, scholarship, leadership, and sportsmanship."
Upon graduation he attended Indiana University where he, along with his older brother, Bill, helped lead the Hoosiers to their first NCAA basketball championship in 1940 and won the Gimble Award in 1941. He graduated from Indiana University with a BA in Government in 1941 and obtained his Masters in Government in 1953.
Bob was a 1st Lieutenant in the U.S. Air Force and served during WWII for several years. Returning home, he and his father-in-law, R.H. McMurtrie, founded Ferdinand Furniture Company, building residential furniture. He held the position of President and assumed responsibility for the entire operation, which quickly thrived. After his father's passing in 1956, Bob assumed control of DuCrafts, which had some 30 employees and multiple production buildings in and around Huntingburg. The company, which later changed its name to Styline, quickly grew as a leading supplier of occasional tables under his guidance.
Bob created a culture of environmental consciousness that lasts to this day. In fact, his commitment to the environment dates back to the 1950's, years before most people were concerned with the need to protect natural resources. Bob's legacy was guided by his strong environmental ethics and beliefs. He believed that we must preserve and learn from natural places, minimize the impact of man-made chemicals on natural systems of the world, and, most importantly, consider the potential for human activity to disrupt the complex and fragile web of life, all at a time when most were scared to speak these thoughts. Bob participated in the very first Earth Day celebration. Along with others, Bob helped convince Indiana University to establish its School of Public and Environmental Affairs. He also received national recognition for his efforts and contributions to the preservation of natural areas and the encouragement of multi-purpose forestry.
Today OFS Brands has grown into a company with locations in three states. The company's 2,000 employees manufacture a wide variety of consumer durables under its family of brand names. Bob led the company as president and then chairman from 1956 until 1983, at which time he handed the presidency over to his son, Hank Menke. Bob remained active in the company in a consulting role with the title Chairman of the Board, Emeritus, until his passing in 2008.