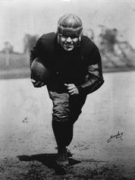 Awards
IUB Athletics Hall of Fame (2010)
Z.G. Clevenger Award (1972)
About Charles H. Bennett
Former Linton High School football standout Charles H. "Chuck" Bennett was inducted into the Indiana University Intercollegiate Athletics Hall of Fame in 2010.
He was a halfback for the Hoosiers and earned All-American honors in 1928. That same year, he was All-Big Ten and was IU's first Big Ten MVP in football. He was a senior on the Linton football team in 1923 that went 8-0 against Indiana opponents, outscoring them 155-0, and lost to Robinson, Illinois, in a challenge game 8-7. The Miners were declared state champs twice in his high school career.
Chuck came to IU after leading Linton High School to two state championships. He won football letters from 1926-28 and was captain in 1928. He was All-Big Ten and All-American as a halfback in 1928. Chuck was the team's MVP in 1928 and the Hoosiers first Big Ten MVP. He played in the East-West game that year and was MVP for the East after scoring two TDs. Chuck played professionally for the Portsmouth Spartans and the Chicago Cardinals. He served as football and track and field coach at LaPorte High School (1934-37) and football coach and athletic director at Austin (Minn.) High School (1938-39). In 1939, Bennett was hired as a football coach and athletic director at Lyons Township High School in La Grange, Illinois. He coached the Lyons Township football team for 21 years and won 11 West Suburban Conference championships. He served as just athletic director from 1960-66. He inducted into the Indiana Hall of Fame at Richmond and also received the Clevenger Award from IU in 1972. Bennett passed away in 1973.