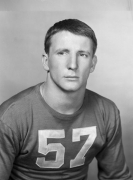 Awards
IUB Athletics Hall of Fame (1989)
Z.G. Clevenger Award (1971)
About Robert A. Ravensberg
Robert Ravensberg graduated from IU in 1950 and was an All-American football end in 1945. After playing guard on the 1943 IU football team, he switched to end position, to star on the 1944 team and the 1945 conference championship team. He spent a year in the army, playing with the sixth district championship team, before returning to IU for his final year of football in 1947.
Following graduation, Ravensberg played professional football with the Chicago Cardinals for two years. From 1950-52 he was assistant varsity coach and assistant professor in IU's School of Health, Physical Education and Recreation. For the following five years, Ravensberg served as sales manager of Harlos Construction Co., Bloomington, and then for three years as district sales manager of Modernfold Inc., Detroit. For the next two decades he served as president of R.A. Ravensburg & Associates in St. Louis, Missouri.
Ravensberg worked as campaign chairman in the state of Missouri for the IU 150th Birthday Fund, was a member of the IU Alumni Association, the Hoosier Hundred of Varsity Club, and the "I" Men's Association.