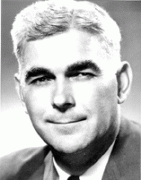 Awards
IUB Athletics Hall of Fame (1982)
Z.G. Clevenger Award (1966)
About Branch McCracken
Indiana native Emmett Branch McCracken was a three-year letter winner for Hall of Fame coach Everett Dean at Indiana University. McCracken played center, forward and guard, pacing the Hoosiers in scoring for three years. As a sophomore he was named conference MVP. In his senior year McCracken tallied 147 points, a new conference record. He was named All-American and team captain for the 1929-30 season.
After graduating McCracken joined the Oshkosh All-Stars, just in time to lead them to a 30-23 win over the Chicago Majestics and the 1930 Midwest pro championship. In 1930-31 he began his job as head coach at Ball State University and played professional ball as his time permitted. He then played for the Fort Wayne Hoosiers of the American Basketball League (ABL). He only played one season with Fort Wayne before the ABL folded, after the 1930-31 season. He then played with the Indianapolis Kautskys in the newly-formed National Basketball League (NBL); that league folded in 1933. Shortly afterwards, McCracken played with the Dayton Metropolitans and a semi-pro team in Richmond, Indiana. As a head coach, McCracken guided Ball State (1930-38) to a 93-41 record and led Ball State to the school's only victory over the Hoosiers in school history in 1937-38, when the Cardinals went 17-4.
At Indiana University (1938-43, 1946-65) he accumulated a 364-174 record. He coached two NCAA Championship teams (1940 and 1953). His Hurryin' Hoosiers won three Big Ten titles, one co-championship and eight runner-up spots. In 1948, McCracken was responsible for recruiting Bill Garrett who became the first African American star in Big Ten Conference basketball history. The Hoosiers' home basketball court in Assembly Hall is named in honor of Coach McCracken.
Branch McCracken was enshrined in the Naismith Memorial Basketball Hall of Fame as a player in 1960. He was given the Z.G. Clevenger Award in 1966, and is enshrined in the Indiana Basketball Hall of Fame. In 1982 he was inducted into the Indiana University Athletics Hall of Fame.