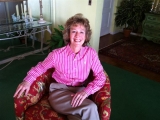 Awards
School of Public Health Anita Aldrich Distinguished Alumni Award (2006)
About Buffy G. Filippell
Buffy G. Filippell, 2006 recipient of the National Girls and Women in Sport HPER Alumni Achievement Award, founded TeamWork Consulting, Inc., an executive search firm for the sports and event management industry in September of 1987. The firm's more than 120 clients have included, among others, NASCAR, PGA TOUR, almost all the major leagues - NBA, NFL, NHL, MLS - twelve NFL teams, eleven NHL teams, twelve NBA teams, nine MLB teams - CART, Indianapolis Motor Speedway, International Speedway Corporation, Major League Soccer, Olympic Governing Bodies, corporate sponsors, and sports marketing agencies.
In 1999, she also developed the first online employment recruiting tool for sports teams and leagues — TeamWork Online — which has grown from 10 licenses to 25. In addition to TeamWork Consulting, it is licensed by the Atlanta Falcons, Houston Texans, Cleveland Browns, Tampa Bay Lightning/St. Pete Times Forum, Charlotte Bobcats, Memphis Grizzlies/FedEx Forum, Portland Trail Blazers, AEG/STAPLES Center, Comcast-Spectacor/Global Spectrum, Silicon Valley Sports & Entertainment, Palace Sports & Entertainment, NFL Teams, NHL League and member clubs, MLB Teams, MLS League and its Teams, Arena Football League/af2 League and teams, NBA/WNBA/D-League Teams, Pacific Coast League, ECHL, ATP & WTA TOUR and tournaments, Mandalay Sports Entertainment, U.S. National Governing Bodies, and International Speedway Corporation.
Filippell served in executive positions in both sporting goods and sports marketing concerns. Early positions as Manager, Racquet Sports and Golf Promotions —(London based) and National Tennis Promotions Assistant at Wilson Sporting Goods led to an account executive post at Mark McCormack's International Management Group (IMG) in Cleveland. Filippell represented professional athletes such as Andrea Jaeger and Ken Rosewall and promoted IMG's Tennis Legends, and Charlton Heston's Pro Celebrity Tennis Tour and served as the Commissioner of the Women's Professional Racquetball Tour.
After returning from a year in Turin, Italy, by January 1985, Filippell joined Korn/Ferry International, a worldwide executive recruiting firm. Although she worked on searches for senior executives in banking, manufacturing, insurance and industrial products, Filippell brought in and conducted searches for the Women's Tennis Association, LPGA, U.S. Cycling Federation, Sporting Goods Manufacturer's Association, Prince and the Women's International Pro Tennis Council.
Filippell currently serves as a Senior Advisory Board Member for Indiana University's Kelley School of Business Sports and Entertainment Academy. In 1987, she founded the Ohio Games (earlier called the Ohio Sports Festival), a statewide amateur Olympic-type event for athletes of all ages in the state of Ohio. She also served on the Executive Committee of the Greater Cleveland Sports Commission until 1999. She was formerly a Trustee on the Board of the Women's Sports Foundation and co-published the first Directory of Women in Sports Business with Richard Lipsey.
Filippell received a Bachelor of Science degree and a varsity letter in tennis in 1976 from Indiana University Bloomington. She and her husband, Mark, have a 16-year-old son, Davis.