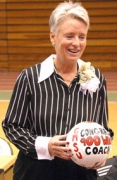 Awards
Leanne Grotke Award (2012)
School of Public Health Anita Aldrich Distinguished Alumni Award (2007)
About Peggy Martin
Peggy Martin has the most career wins of any volleyball coach on the NCAA Division II level. Her 1004- 267 record makes her the first coach to reach the 1000 victory plateau. Under Martin's guidance, the Jennies have won at least 25 matches 28 straight years and hold the record for NCAA tournament appearances at 24 straight. Her teams have reached the "Elite Eight" six times, highlighted by a runner-up National showing in 1987. For her efforts Martin has been named MIAA Coach of the year on 15 occasions, Regional Coach of the year on six occasions and National Coach of the Year in 1987.
Martin came to Central Missouri as both the volleyball and softball coach. In 11 years as softball coach she led the Jennies to two softball MIAA titles and was named Coach of the Year twice. She has coached 22 All-Americans and graduated all players who have completed their eligibility at UCM. Her team's current GPA is over a 3.5. Martin was a standout athlete at Mercy high in Mobile where she competed in basketball and volleyball in the CYO leagues. She was president of her junior class and Student Council President her senior year. She chose to attend Indiana University where she played basketball, softball and field hockey. She was captain of the basketball team for three years and led the team to the National Tourney her junior and senior years.
At IU she served as president of the Women's Recreation Association and received the HPER Alumni Scholarship as well as serving on the IU Student Foundation. She graduated from IU in 1972. Martin earned her Masters degree at the University of North Carolina-Greensboro in 1974 and returned to her alma mater, IU, to earn her doctorate in 1980. She has authored a best selling volleyball drills book as well as produced four instructional videos.