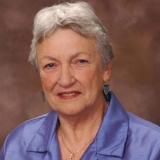 Awards
School of Public Health Anita Aldrich Distinguished Alumni Award (2008)
About Jeannine Butler
Dr. Jeannine Butler is a retired educator, administrator, and coach. A graduate of Indiana State University, she completed her master's degree and doctoral degree in physical education from Indiana University. During her career, she has served the community of Bloomington in many capacities, but most notably she has contributed significantly to the youth of the community.
She began her educational career 50 years ago as a teacher and coach at Adams Township High School (Indiana) when females were relegated to intramural sports. Dr. Butler served as one of Monroe County Community School Corporation's (MCCSC) first female administrators and high school girls' basketball, volleyball and track coaches. She was recognized as "Coach of the Year" in 1979. In 2006, she was inducted into the Indiana Basketball Hall of Fame. Her teaching and coaching career covered a 38 year span of which 26 of those years were dedicated to high school and college coaching with only 4 losing seasons.
Dr. Butler has also served the community in many other areas such as the Youth Service Bureau of Monroe County, Bloomington Restorations, Inc., Options for Better Living, Bloomington Historic Preservation Commission, and Community Corrections Board. During her career as an educator and into retirement, she served on the MCCSC Strategic Planning Committee, Indiana School Board Association, Community Study Groups, Dean of Students, student teaching supervisor, and was recently elected to MCCSC School Board. She has been recognized for the encouragement she has provided to thousands of young men and women throughout her career in education, changing lives and helping young people improve themselves. She was the 2005 Lifetime Contribution Award recipient for changing the lives through her devotion to helping people. She has been acknowledged as a woman who has changed the world.