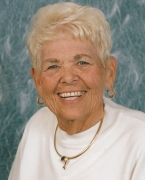 Awards
School of Public Health Anita Aldrich Distinguished Alumni Award (2010)
About Judith Campbell
Judith Campbell, who was noted as one of the Foremost Women of the Twentieth Century ('84), was born in Terre Haute, Indiana to the late O.H. Campbell and surviving Juanita Campbell, currently of Lakeland, Florida. During her childhood, Judith spent her summer's working as a Camp Councilor in Indianapolis and Terre Haute. She was also a noted leader for the Girl Scout Council and Vigo County Association for Retarded Children.
Judith's many summers as a council pushed her toward pursuing a Physical Education path at Indiana State University where she earned a Bachelor's of Science ('60). Followed quickly by a Master's of Physical Education ('63) from Indiana University. Judith later returned to school to earn her Physical Education Doctorate ('78), also from Indiana University.
Judith Campbell not only excelled in the classroom as a student, but also an educator. Judith has worked for many decades as an educator. She has been entrusted with the minds of young adults from her time teaching in the St. Louis Public School System ('60-'61) to her time as an Instructor ('61-66), Assistant Professor ('68-75), Associate Professor ('75-78), and also as a Professor of Physical Education at Indiana State University.
In 1972, Campbell was selected to serve on the National Advisory Council for Special Olympics, Inc. and was appointed Regional Director of Special Olympics over five States by the Kennedy Foundation. In 1970, she also co-founded of Special Olympics Indiana, and has developed and designed physical education curriculum used in K-12 schools in Indiana. Her awards and accolades are countless, and her dedication and lifelong contributions to the health and fitness of youth have influenced hundreds of thousands of young people.