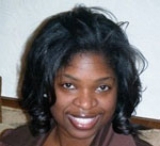 Awards
School of Informatics Young Alumni Award (2010)
About Virginia G. Richardson
Virginia Richardson received her bachelor's degree in media arts and sciences and applied computer science from IUPUI in 2007. An internship at Black Entertainment Television (BET) in 2006 blossomed into a full-time position in the Creative Services and Marketing department. She spent her senior year commuting between BET's Washington, D.C., studios and the IUPUI campus in Indianapolis, putting her technical expertise to good use to complete her degree while launching her professional career.
In September 2009, Richardson worked on launching a new Viacom network, Centric, which combines BET and VH1. As part of the creative services/marketing team for Centric, her focus will be on strategically promoting the network using various elements, including promotional video and graphics. One major medium does not appear to be enough for Ms. Richardson; however, as she worked full time at BET, she interned at Sirius XM Satellite Radio and she gave her time as Special Events Assistant for the BET Foundation. In this role she supported such efforts as the BET Women's Health Symposium and BET Summer Camp for Girls.
Currently, Richardson is the Special Projects Sales Manager for Granite Broadcasting in New York. Since her 2007 graduation, she has earned a master's degree in music technology and engineering.