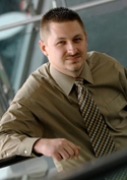 Awards
School of Informatics Young Alumni Award (2011)
About Steve Hodges
Steve Hodges received his bachelor's degree in media arts and science from the IU School of Informatics at IUPUI in 2004, with a certificate in applied computer science from the Purdue School of Science. He is currently lead user experience developer at Mobi Wireless Management in Zionsville, Ind., responsible for the usability and interface of Mobi's software-as-a-service product.
Previously, Hodges was the architect behind IUPUI's digital communications from 2004-10 (in the campus's office of communications and marketing). His media and web projects were recognized in 11 national and regional competitions, including awards for iterations of the IUPUI campus website, several video series, and interactive applications. The IUPUI Web site was named one of the twenty most usable university home pages in "Best of the Best" .edu sites, Guide to Usable Higher-Ed Homepage Design (2009).
Today, his professional interests are varied, including building usable Web sites, communications strategy, user interface design and development, digital signage strategy, and video and motion graphics production. Hodges has been an active alumnus, volunteering frequently in Informatics career development courses, mentoring students through internships, and designing the current Indianapolis school's website.