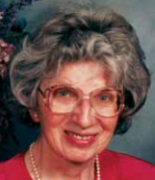 Awards
Luddy School of Informatics, Computing, and Engineering Distinguished Alumni Award-Distinguished Service Award (2011)
IUPUI Spirit of Philanthropy Award (2005)
About Mary McKenzie
An ardent advocate of education, Mary Lacy McKenzie received her first college degree in 1954 and continued her formal learning until she received her MS from Indiana University in Indianapolis in 1973. After becoming certified as a Registered Record Administrator by the American Health Information Management Association in 1954, she entered the field of health records management. Her career spanned a number of states, institutions and technologies as medical record-keeping moved from paper to film to fiche and, currently, to digitalization.
In 1967, McKenzie became an assistant professor at the IU School of Medicine in the School of Allied Health Sciences, where she also directed the Health Information Administration (HIA) program. In 1977 she assumed the role of associate professor, while continuing as director of the HIA program until her retirement in 1996. In her 29 years directing the program, she contributed advancements including conducting clinics in nontraditional settings. Graduates of the program consistently scored above the national average in the Registered Health Information Administration certification examination.
Before joining the university she directed medical records departments at Grant Hospital in Chicago and IU Hospitals in Indianapolis. McKenzie's contributions were not limited to classrooms or offices. She was an active member of her state Associations of Medical Record Librarians across the Midwest from Minnesota to Indiana, always chairing committees and serving in advisory roles. She also served a year as president of the American Health Information Management Association.
Her service to her University community was comprehensive, from curriculum review and task forces to admissions and scholarship awards. McKenzie also lent her services to such civic enterprises as the Medical Explorer Scouts and the Indianapolis Altrusa Club. In 2003 she and her HIA program successor Janatha Ashton were jointly honored by the establishment of an endowed fund in their name for the HIA directorship.