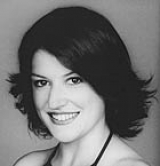 Awards
College of Arts and Sciences Outstanding Young Alumni Award (2005)
About Nicole F. Parker
Nicole Parker, a 2000 B.A. graduate, came to Indiana from Southern California, but felt right at home almost immediately. She says IU provided incredible opportunities to get involved, making a densely populated campus feel accessible and familiar. Singing Hoosiers was one such organization.
Through the Hoosiers, Parker made fast friends with shared interests and was exposed to a wide variety of performing opportunities.
It was the Singing Hoosiers that first brought her to New York City on an east coast tour, and she found touring was a great way to develop adaptability. Every venue was different. This required flexibility and an open mind, two skills that have certainly helped Parker in her career.
For Parker, Singing Hoosiers was always a very positive, social, and artistic outlet. It also instilled in her the idea of constant improvement and training. "Everyone was always striving to become better musicians, better performers, better members of a team," she says.
To this day, Nicole still raves to anyone who will listen about how much she loves her alma mater. She says she is grateful to Dr. Schwartzkopf for his fearless leadership. She says Singing Hoosiers helped her learn how to be an individual, all while living on "the most beautiful campus in the world."
After six seasons as a featured writer and actress on Fox's MADtv, Parker now spends most of her time very green, as Elphaba in Wicked on Broadway. She can also be seen in this summer's film, Funny People, directed by Judd Apatow.