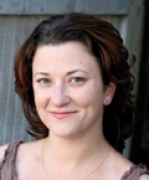 Awards
College of Arts and Sciences Outstanding Young Alumni Award (2007)
About Jessica Petelle
Making Indiana a hotbed of film production is the goal of Jessica Petelle, executive producer of Drexel Box Films. After three years in Los Angeles, she transplanted her independent film work to her home state for several years, becoming an advocate for state legislation supporting film production and serving on the board of directors of the Indiana Media Industry Network.
Originally from Churubusco, Indiana, Petelle graduated from Indiana University in 2000 with bachelor's degrees in Telecommunications and Theatre and Drama. Her first position as an executive assistant at Gracie Films earned her an Emmy certificate for her work on Outstanding Animated Program award winner The Simpsons. While at Gracie, Petelle collaborated on independent projects with friends from IU who had also traveled west to work in the film industry.
Realizing that nearly all the group's script ideas centered on Indiana or the Midwest, Petelle decided to relocate in order to coordinate production from the heartland. Forming Drexel Box Productions with several of her fellow alumni, in 2003 she produced her first full-length feature, Joshua, a horror film shot in South Bend, Indiana.
Returning to LA, her recent projects span a diverse range of subject matter, from time travel in 11 Minutes Ago to circus life in Little Big Top. She's still involved in the Indiana Media Industry Network, and she has cofounded the Hollywood Hoosiers, a club for IU alumni working in the entertainment industry.