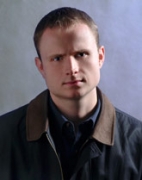 Awards
College of Arts and Sciences Outstanding Young Alumni Award (2008)
About Michael J. Koryta
By the time Michael Koryta graduated from IU in 2006, he was already an acclaimed mystery writer, as well as a private investigator and an experienced newspaper reporter. Two years later, he has continued to distinguish himself through a total of four published novels and a thriving investigative career.
Born in Bloomington to book-loving parents, Koryta wanted to become a writer from the time he first learned to read. Early exposure to Humphrey Bogart and Alfred Hitchcock helped him settle on the mystery genre and awakened an additional interest in becoming a private eye. During high school, he began both careers by writing for The Bloomington Herald-Times and working part-time for Trace Investigations.
Attending IU allowed him to continue these pursuits while studying Criminal Justice and Political Science, both of which informed his fiction. Carving out time from midnight to 3 a.m., Koryta completed what was to become his first published novel, Tonight I Said Goodbye, when he was just 20 years old. Sorrow's Anthem, a sequel to his first novel, was also published before his graduation.
Koryta has received a number of accolades for his work. Tonight I Said Goodbye won the St. Martin's Press/ Private Eye Writers of America prize for Best First Private Eye Novel and the Great Lakes Book Award for Best Mystery, and was nominated for an Edgar Award. His third novel, A Welcome Grave, was nominated for a Quill Award and earned praise from Publishers Weekly, Booklist, and The New York Times.
This past summer, he published his most recent novel, Envy the Night, and signed a three-book deal with Little, Brown to be edited by Michael Pietsch, who has worked with best-selling authors Michael Connelly, James Patterson, and Anita Shreve.