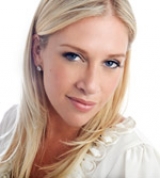 Awards
College of Arts and Sciences Outstanding Young Alumni Award (2010)
About Erika Wadler
Since graduating from IU in 1998 with a degree in apparel merchandising and joining the Conde Nast group as a merchandising assistant for Glamour magazine, Erika Wadler has risen steadily through the business ranks of the fashion publishing industry. In 2000, Wadler became one of Glamour's youngest sales representatives, and the advertising accounts she managed made up 10 percent of the magazine's new business for the year. That achievement earned her Conde Nast's Phoenix Award, given to the sales representative with the most significant turnaround of an account list.
After two years with the Conde Nast Bridal Group, Wadler left to join Stuff magazine, again winning honors for top advertising sales. From there, she moved back to Conde Nast as a corporate accounts director with Details magazine before rejoining Glamour as American fashion director. Now working for Time Inc. as InStyle magazine's executive director for American fashion and retail, she manages an account list of more than $13 million. Her accounts include Ralph Lauren and Saks, among others.
Wadler says many of the lessons she learned at IU have come into play throughout her career, from cash register logistics to understanding the construction of a garment. Her knowledge of both business and fashion has set her above her peers.
"She is extremely innovative and constantly looking for new ways to approach her business with fresh and creative ideas," says Paul Caine, another of the College's 2010 award recipients and the president and group publisher of Time Inc.'s Style and Entertainment Group. "She has used her IU education well and has succeeded immensely in developing a thriving career path and will only continue to do great things."