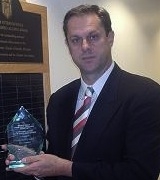 Awards
School of Public Health Mobley International Distinguished Alumni Award (2006)
About Nikos Stavropoulos
Scholar. Coach. Athlete. Teacher. Dr. Nikos Stavropoulos has served in multiple roles throughout his distinguished professional career, which included time spent at Indiana University in the mid-1990's when he completed his master's degree in kinesiology. His lifetime, whether it has been in the participatory role as an athlete, or in the practitioner role as a coach or teacher, is marked by his dedication and expertise in the areas of kinesiology, basketball coaching and instruction, and sport sciences.
As a young person, Dr. Stavropoulos began his competitive basketball career in the basketball club of Larissa. He later played with the Greek National Junior Men's basketball team, and the Greek National Army Men's basketball team. From 1979 to 1988, he was a member of the Greek National Team. He continued to play professionally until 1993. Throughout his playing career, he received many honors; in 1987 he was a gold medal recipient in the European Championship in Athens, and in 1991, he was a member of the first place team in the European Cup in Geneva Switzerland. A particular highlight of his career was earning the distinction of scoring the first "three point shot" in Greek basketball history (1985). Dr. Stavropoulos has also been an active coach -- a role that began simultaneously during his earlier playing days. From 1997 to 1999, he served as associate head coach of the Greek Junior Men's basketball team, and became head coach in 2000. He served as head coach until 2005. During his head coaching career, his teams earned silver and bronze medals in various European and world competitions.
In addition to his roles in the competitive arena, Dr. Stavropoulos has been active in a variety of teaching, administrative, and academic involvements. These have included the roles of Supervisor of Special Athletic Programs for the Youth Greek Basketball Federation, Director of the Salonika Basketball Camp, and teaching positions in the Department of Physical Education and Sport Sciences at Aristotle University of Thessaloniki. He has also served as a high school physical education teacher. In 2002, he completed his Ph.D. at Aristotle University of Thessaloniki. He had earlier completed his bachelor's degree from the same institution. He is the author of numerous publications, and is also active in the clinic circuit.