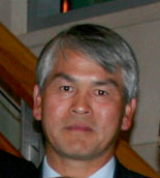 Awards
School of Public Health Mobley International Distinguished Alumni Award (2008)
About Mike Huang
Dr. Chi-Huang "Mike" Huang, serves as Professor at the Institute of Athletic Training and Health Science and Director of the Institute of Coaching Science at National Taiwan Sport University. He joined the NTSU (previously known as National College of Physical Education and Sports) faculty in 1994, and his primary teaching responsibilities are in the athletic training curriculum program and clinical applications to almost all competitive athletes in Taiwan. His scholarly interests include neuromuscular performance due to injury, and strength and conditioning. Prior to arriving to NTSU, he taught at San Jose State University in the graduate athletic training curriculum program, and as a full time athletic trainer for Indiana University Athletic Department. Other professional experiences have included serving as the chair for the Education Committee for World Federation of Athletic Training & Therapy.
Dr. Huang has published more than 40 manuscripts in professional journals, proceedings and books. He has made approximately 100 professional presentations, including eight international presentations in the United States, Japan, Korea, China, and Hong Kong. Besides academic life, Dr. Huang has also been very active in public service. He was invited to work as the deputy minister of sports in Taiwan from 2004 to 2007. His main responsibilities included supervising three major divisions within the sports council, competitive athletics, international affairs and sports facilities. He was also named the Director of the Taiwan National Olympic training Center. Taiwan won its first Olympic gold medals in 2004, ending Taiwan's 72-year gold medal drought in the Olympic Games. In addition, Mike has been instrumental to the athletic training profession in Taiwan. He started the game coverages by athletic trainers with his students and installed full time athletic trainers to almost all national teams. He is also active in tennis and golf.
Dr. Huang earned his master's degree in athletic training and doctorate in administration, curriculum and instruction from Indiana University in 1989 and 1993 respectively. Previously, he earned his first master's degree in athletic administration from Springfield College in 1987, Massachusetts and his bachelor's degree at Fu-Jen Catholic University in Taiwan in 1984.