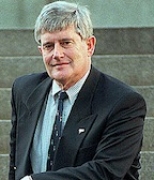 Awards
School of Public Health Mobley International Distinguished Alumni Award (2010)
About Frank Pyke
Frank Pyke received a bachelor's and master's degree in Physical Education from the University of Western Australia in 1962 and 1967. He chose to continue his studies at Indiana University where he received a Ph.D. in Exercise Physiology and Human Performance from the Department of Kinesiology in 1970.
Between 1967 and 1972 he taught at Illinois State University in the United States and Dalhousie University in Canada, and then at the Universities of Western Australia, Canberra and Wollongong before being appointed Professor and Head of the Department of Human Movement Studies at the University of Queensland, where he still holds an Adjunct Professorship. He is also an Adjunct Professor at the University of Western Australia.
Dr. Pyke became the inaugural Executive Director of the Victorian Institute of Sport in 1990 and held the position until his retirement in 2006. During this time the Institute provided coaching and support services and the daily training environment for many athletes who became Olympic, Paralympic and World champions. He also pioneered an athlete career and education program which was adopted nationally and by several overseas countries. This initiative was reflected in the Institute's motto "Success in Sport and Life".
Throughout his career, Dr. Pyke has also served on and chaired a wide range of boards and committees associated with sporting organizations, professional associations and universities.
He has written and edited ten books on scientific training, coach education and elite athlete development, has published many articles in scientific journals and magazines and is an experienced and well-known international presenter.
He was awarded an Australian Sports Medal in 2000, Life Membership of the Australian Council for Health, Physical Education and Recreation in 2002 and was inducted into the Sport Australia Hall of Fame in 2003.