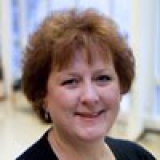 Awards
School of Continuing Studies Distinguished Alumni Award (2008)
About Lori Collins
Lori Collins was attending college at Indiana University Kokomo when she began working there as a student assistant in 1984. Then "life happened," and she left school, got married, and started a family. She continued to work at the university, though, and eventually transferred into a position in the Division of Continuing Studies.
Collins' supervisor in continuing studies, Donald Lane, encouraged her to go back to school, explaining that he couldn't promote her without a degree. Using her previous credits and scores from the Certified Professional Secretary exams, Collins heeded his advice and earned an Associate of General Studies in 1998.
While a good start, Lane reminded her that for a professional position with the university, she would need to continue on and earn a bachelor's degree. She was able to meet this goal in 2001, a bittersweet accomplishment occurring 6 months after the death of her mentor, Lane.
After earning her B.G.S., Collins secured a position as an academic advisor in the division of continuing studies. Although she loved her work as an advisor, especially the opportunity it gave her to work with adult students like herself, she really liked the idea of being able to teach, too. So she went back to school one more time, and in 2004, earned a Master of Science in Adult Education.
As an academic advisor and instructor at IUK, the work Collins does each day is indicative of a dedication to lifelong learning, and to serving the unique needs of adult learners. Using her experiences as an adult student to find ways to better serve adult students, she has designed two courses to help them transition into school more successfully. The first, College Colloquium for Returning Adult Students, has been a tremendous success on the IUK campus. Two sections are offered every semester, and both sections always fill up. "That's my favorite class to teach," said Collins. "It's just the ah-ha moments when things start clicking with the students and they find out they can work it out. It's just wonderful."
Collins then decided to redesign an existing computer course so that it would fit into adult schedules better. Introduction to Computers and Their Use is now available as an ACCELerated Evening College/hybrid course.
"I was there and I understand where they are coming from and what they need," said Collins. "A lot of them had really bad experiences in college or high school. I had an instructor embarrass the heck out of me, telling me in front of the class that there was no way I would pass her class, and should drop it. So I did, and then I stopped out. I can use my personal experiences to relate to adults returning to school. I'm probably one of the biggest adult student advocates on campus."