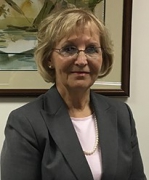 Awards
School of Continuing Studies Distinguished Alumni Award (2009)
About Brenda Bickel
Brenda Bickel went to Michigan Tech just out of high school with every intention of leaving with a degree. Unfortunately, she ran out of money, and had to leave less than two years later. She went on to serve in the Navy, and then got married and started her family. Despite her busy life, she never lost sight of the degree she'd planned to earn.
With the assistance of the GI Bill, she was able to return to college at Indiana University South Bend. The General Studies Degree program was a natural fit for Bickel, as she was able to get credit for her prior course work and military training. "I was able to transfer in credits from Michigan Tech, translate my experience in the Navy into eight more credit hours, and start at IU with a junior standing," Bickel explained.
Her first goal was to earn an associate's degree, which she saw as a necessary stepping stone on her path to a bachelor's degree. "I was working three-fourths time, going to school three-fourths time, and raising two kids," Brenda recalls. "It was a very difficult, but rewarding time. I had the support and assistance of my husband to help me, though. Having strong support and someone to believe in you makes all the difference in the world."
Bickel earned an Associate of General Studies from IU South Bend in 1980. She was able to earn her B.G.S. just two years later. She graduated during a recession, but was able to secure a retail management position. She moved from there into the insurance business, and eventually was able to start her own financial advising business. She credits her success in the industry to a philosophy of ethical, diverse investment strategies, sound fiscal counseling, and a lot of reassurance and communication with her clients.
When she isn't working, Bickel is actively involved in her community. She is on the Board of Directors for the Notre Dame Federal Credit Union, the Board of Directors of the Indiana University South Bend General Studies Alumni Association, is a member of the Indiana University Alumni Association's 1854 Society, a past member of the Indiana University Executive Council, and a past member of the Indiana University Alumni Association School of Continuing Studies Board.