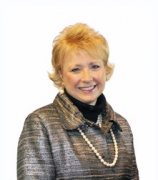 Awards
School of Continuing Studies Distinguished Alumni Award (2011)
About Susan Schricker
Susan Schricker spent the first 30 years of her adult life doing college work on a part-time basis, always putting it aside for work opportunities and other life events. Then in 2003, she found herself jobless after a company buyout, and decided it was time to complete a degree.
Having had many different majors, life experiences, and interests, she had no idea what she would major in. Then an advisor at IU South Bend told her about the General Studies Degree program, which would allow her to use her previously earned college credits and tailor her degree to her interests. It was a perfect fit.
She attended IU South Bend full time between the fall of 2004 and her graduation in May 2006. "My experience on the Indiana University South Bend campus was one of the most rewarding experiences of my life," said Schricker. "I received counseling from advisors who cared, took an interest, and were qualified to recognize what would work best for me. I never felt out of place. I think the general studies degree is a remarkable program for people like me, or even me 25 years ago."
Her experience with the program was so positive, in fact, that Schricker became a strong advocate of the program and an enthusiastic and willing ambassador for the difference the degree can make in someone's life. She spoke on behalf of the Bachelor of General Studies at the Indiana Statehouse in 2007, and again in 2010 at the Cream and Crimson Weekend. She has also helped her employer connect with the School of Continuing Studies and with the continuing studies programs on the South Bend and Fort Wayne campuses to create a special section of an online management development program.
This year's recipient of the Distinguished Alumni Award, Schricker is a sales account manager for Meridian Title Corporation. To hear Schricker's summary of her experiences as a nontraditional student coming back to school to accomplish her goal of earning a bachelor's degree, visit www.youtube.com/watch?v=SYcWUHIaeWI.