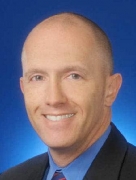 Awards
IUAA President's Award (2001)
About H. John Okeson
H. John Okeson graduated from Indiana University with a B.A. in 1986, and a J.D. in 1989. Since October 2007, he had been an attorney with the Indianapolis firm of Hall Render Killian Heath and Lyman. His legal practice concentrated on health care, its business management and regulation.
Okeson had been elected as clerk of the Indiana Supreme Court in 1994 and frequently mentioned as a possible candidate for Fort Wayne mayor or state attorney general, but he'd spent much of the time between his 1994 election to statewide office and last year in politics or in public office. From 2005 to 2007, he was Governor Mitch Daniels' senior legislative counsel. Okeson also had worked as special counsel to the secretary of the Indiana Family & Social Services Administration.
Okeson died on April 1, 2008. He was 43.