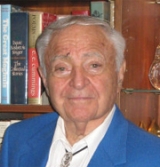 Awards
Maurer School of Law Academy of Law Alumni Fellows (1992)
About William F. McNagny
William F. McNagny earned a J.D. in 1947 from Indiana University, and is a lawyer at the firm of of Barrett, Barrett & McNagny. He attended Swarthmore College as a member of the Class of 1944.
McNagny is a fellow of the American College of Trial Lawyers, and is widely regarded among his peers and colleagues as one of the preeminent courtroom orators of his time.
McNagny has been the recipient of the 2009 Legendary Lawyer Award from the Indiana Bar Foundation, and received the 1991 Ralph E. Broyles Medal from IPFW.