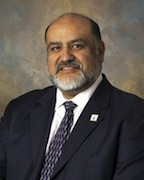 Awards
Distinguished Latino Alumni Award (2003)
About J. Guadalupe Valtierra
J. Guadalupe Valtierra is the chancellor emeritus at Ivy Tech Community College Northwest, which has campuses in Gary, Valpo, Michigan City, and East Chicago. Valtierra's professional career in education spans more than 20 years. He received both master's in Higher Education and Student Affairs (1984) and law degree (1982) from Indiana University - Bloomington. He also completed work toward a doctoral degree in Higher Education Administration at IU.
Valtierra has worked in the field of education for the past twenty years. While a graduate student, he served as a residence assistant at Ashton Center and assistant coordinator at Foster Quad. After graduation, he was employed as an academic advisor for IU Groups program and program coordinator and research assistant in the School of Education. He was named assistant director for the Purdue University-Calumet Upward Bound program in 1988 and then director from 1990 - 1995.
Valtierra joined Ivy Tech in 1995 and was appointed director of student affairs. He was appointed regional dean in 2000. While performing his functions as dean of student affairs, Valtierra served concurrently for one year as the college's acting dean for academic affairs.
Recognized for his leadership skills and professional expertise, Valtierra has facilitated and chaired numerous state and national educational conferences and workshops and consulted for the Council for Opportunity in Education in Washington, DC. Additionally, he has written for several professional publications and served as a conference presenter.
Valtierra has been an active member of many College and community related boards of directors and committees. His community affiliations include the Council for Opportunity in Education, the Hispanic Organization Promoting Excellence, the Indiana Latino Institute Board of Directors, the Indiana Minority Health Coalition Board of Directors, Latin American Community Alliance for Support and Assistance (LACASA), Mid-America Association of Educational Opportunity Program Personnel (MAEOPP), and the Indiana University School of Education Alumni Association Board of Directors. Valtierra is also an attorney member of Indiana State Bar. He was a trustee for the Higher Learning Commission from 2008 to 2012. Valtierra was also the first recipient of the Indiana University Alumni Association Distinguished Latino Alumni Award in 2003.