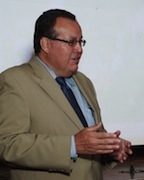 Awards
Distinguished Latino Alumni Award (2004)
About Jesse M. Villalpando
Judge Jesse M. Villalpando of Hammond, IN, has had a long career in public service. Prior to his appointment to the court in 2000 by the late Gov. Frank O'Bannon, Villalpando served in the Indiana House of Representatives. While a state representative, he authored significant legislation including the Anti-Stalking Law, Anti-Gang Law and Drug Paraphernalia Law. He also authored the CLEO bill to start a program that underwrites scholarships annually to 30 under-represented first-year law students. In addition to his judicial career, Villalpando serves on the IU Latino Alumni Advisory Board.
He also was instrumental in gaining funding for the Indiana Civil Legal Aid Program, which helps poor Hoosiers in need of legal services. For his contributions to the state, Villalpando has received numerous awards including the Sagamore of the Wabash, the highest civilian award in Indiana.
Villalpando received both his bachelor's degree (1981) and his juris doctorate (1984) from IU. He also earned a master of business administration degree in 2000 from Purdue University.