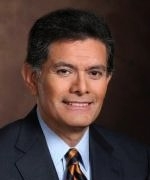 Awards
Distinguished Latino Alumni Award (2006)
About Phil Ponce
Phil Ponce is a Chicago-based journalist who hosts Chicago Tonight, a nightly television magazine, and is the anchor and managing editor for news, news analysis and public affairs for WTTW-TV Channel 11. Ponce is also the distinguished journalist-in-residence at Loyola University in Chicago.
He graduated from Indiana University with a degree in English in 1971, and from University of Michigan in 1974 with a law degree. Ponce has had two distinguished careers, first as an attorney where he served the public interest as Attorney General for Colorado, and secondly, as a political analyst and correspondent. He has moderated numerous political debates, and most recently between Barack Obama and Alan Keyes. Ponce joined the staff at the Chicago CBS station WBBM-TV as a reporter in 1982. He joined Chicago Tonight in 1992 as a correspondent and primary substitute for then-host John Callaway. In 1997, Jim Lehrer hired him to work as a national correspondent for NewsHour with Jim Lehrer. Ponce returned to Chicago to become the host of Chicago Tonight in 1999. On Chicago Tonight, he conducts in-depth news analysis on issues of the day including politics, arts and culture. Ponce's special interest in the arts can also be seen in his ongoing hosting of an award-winning arts program, Artbeat Chicago, also on WTTW 11.
He has demonstrated his strong ties to IU as our university's 1999 Baccalaureate Speaker and as the father of three IU graduates. He has been recognized by his peers with numerous awards. The Northern Illinois University Department of Communications named him Illinois Journalist of the Year Award in 1998. The Chicago Chapter of Professional Journalists recognized him in 1993 for Public Service; 1996 for Business Journalism and Sports Journalism; 1999 for Business Journalism; and in 2002 for In-Depth Reporting. 2004 was a year of recognition for Ponce. He was the commencement speaker at both Elmhurst College and Loyola University-Chicago and received honorary doctorates from both institutions. He also received the prestigious Studs Terkel Award for Journalism and the IU Latino Alumni Award. In 2007, he was an honorary inductee into Alpha Sigma Nu, the Jesuit honor society.