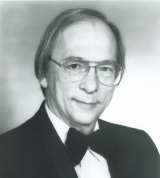 Awards
IUAA President's Award (2017)
About Robert E. Stoll
For 32 years, Stoll, of Bloomington, Indiana, directed the Singing Hoosiers, teaching a multitude of students from all backgrounds and advocating membership in the IU Alumni Association.
"Without exception, he always concludes his remarks by suggesting to those in attendance to spread the word," said former Singing Hoosier John D. Stevenson, BS'68, who supported Stoll for the President's Award. "As he says, 'A great graduation gift is a membership in the IU Alumni Association.'"
Among his many honors, Stoll has received the Leather Medal Award for outstanding service to the IU community, the Singing Hoosiers Distinguished Alumni Award and a Sagamore of the Wabash, Indiana's highest civilian honor. He led the Singing Hoosiers from 1963 to 1995, when the group performed with symphony orchestras and on recordings. He established a tradition of having all Singing Hoosiers alumni join current members on stage at the annual spring concert to sing "The Battle Hymn of the Republic."