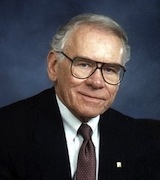 Awards
College of Arts and Sciences Distinguished Alumni Award (1990)
About Thomas W. Wathen
Tom Wathen is the former president and chairman of Pinkertons Inc, which provided private security services. He also led California Plant Protection from a five-car patrol company to the fourth-largest guard company in the United States.
He was born October 5, 1929, in Vincennes, IN, across the Wabash River from O'Neal airport. From an early age, Wathen was interested in airplanes. He graduated from Indiana University in 1951 with a degree in Police Administration. Wathen then joined the Air Force and was stationed at Wright-Patterson AFB and the Pentagon, and served in the Office of Special Investigation from 1952 to 1954. He later became a program security director at North American Aviation on the B-70 and X-15. After his time at North American Aviation, he became the west coast security director of RCA, then the first security director of Mattel. In 1964, Wathen began his own private security company with California Plant Protection, which he expanded into a national company with 20,000 employees. In 1987, he acquired the historic Pinkerton agency and expanded his business to eventually employ 50,000 people in 225 offices around the world. Wathen retired from Pinkerton in 1999.
Due to his passion in aircraft, Wathen has logged about thousands of hours in various aircraft. He has served two years on an Aviation Safety Commission, and was appointed to the President's Council of the EAA in 1987. He is also a life member of the National Institute of Intellectual Property Law Institute. In retirement, Wathen bought the Flabob Airport in Riverside, CA, and established the Tom Wathen Center, a nonprofit organization devoted to the education of aviation.