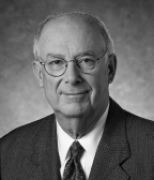 Awards
College of Arts and Sciences Distinguished Alumni Award (1996)
About J. Alfred Broaddus, Jr.
A native of Richmond, Virginia, J. Alfred Broaddus received his B.A. from Washington and Lee University in 1961. Broaddus then attended Indiana University in Bloomington, IN and received both his M.A. and Ph.D. in Economics in 1970 and 1972, respectively.
As an economist, he joined the Federal Reserve Bank of Richmond staff as a researcher in 1970. Throughout his career at the bank, he rose through the ranks, having been named Senior Vice President and Director of Research in 1985. In 1993, Broaddus was promoted to President of the bank where he remained until 2004. During his career at the Richmond Bank, he served every third year as a member of the Federal Open Market Committee of the Federal Reserve System.
Broaddus also is the author of a number of articles on banking and monetary policy and has lectured at several colleges and universities. He serves on the board of directors of the Virginia Council on Economic Education, the Executive Advisory Council of the E. Claiborne Robins School of Business of the University of Richmond, and the Virginia Governor's Advisory Council on Revenue Estimates. He lives with his wife, Margaret, and has two sons.