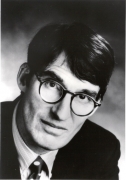 Awards
College of Arts and Sciences Distinguished Alumni Award (2000)
About James Grant
James Grant is a financial analyst, commentator, and author. Grant graduated from Indiana University with a B.A. in Economics in 1970, and later received a M.A. in International Relations from Columbia University.
He began his career in journalism in 1973 at the Baltimore Sun and joined the staff at Barron's in 1975, where he originated the "Current Yield" column. 1983, he founded Grant's Interest Rate Observer, a twice-monthly journal covering the financial markets.
In addition to Grant's, he has written five books on finance and financial history, and appeared on various television programs such as "60 Minutes". Grant also often contributes articles to a number of newspaper including the Wall Street Journal and The Financial Times.