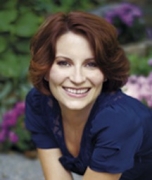 Awards
College of Arts and Sciences Distinguished Alumni Award (2008)
About Meg Cabot
Meggin Cabot, has written over 50 novels and shows no signs of slowing down. Best known for The Princess Diaries series, which Walt Disney Pictures made into hit movies starring Anne Hathaway and Julie Andrews, Cabot has also dabbled in mystery, romance, occult, and children's fiction. Many of her books have made the best seller lists at The New York Times, USA Today, and Publisher's Weekly. Her work continues to inspire television and film production, with projects currently in development based on her Heather Wells mystery series, Queen of Babble series, and Mediator series.
Cabot grew up in Bloomington and majored in fine art at IU. Although she always loved writing, she imagined that success as an author was beyond her grasp, so she focused instead on becoming an illustrator. She was prepared to shelve her literary career indefinitely until a family tragedy put her fear of rejection in perspective.
Having determined that there were worse fates than being turned down by a publishing house, Cabot devoted herself to crafting and submitting romance novels. Although it took a few years to break into the business, her fears turned out to be unfounded. She won a contract with St. Martin's Press and published several books before penning The Princess Diaries, her first young adult novel.
The success of the Disney movies helped propel Cabot's literary career forward. She is now publishing several books a year in a range of genres. When she's not travelling across the globe on book tours, she splits her time between Key West and the Bloomington area, and stays in touch with her many fans through her blog at megcabot.com.