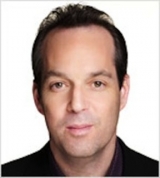 Awards
The Media School Distinguished Alumni Award (2019)
College of Arts and Sciences Distinguished Alumni Award (2010)
About Paul J. Caine
Paul J. Caine started his career in advertising at J. Walter Thompson after graduating from Indiana University in 1986 with a B.A. in Telecommunications and a minor in business.
Caine moved on to USA Today, where he was the company's then-youngest-ever salesman. He was with Psychology Today before he was recruited to join the sales team of People magazine. He spent over 23 years rising through the ranks at Time. He wrote the business plan and led the launch of Teen People, a publication that would become a major voice for American teens. Caine later served as publisher of Entertainment Weekly and People, where he spun off titles including People StyleWatch and People.com. By 2011, Caine was executive vice president, chief revenue officer and group president of Time Inc., overseeing all U.S.-based brands.
In 2013, he left Time Inc. to become CEO of Dial Global. During his tenure, he renamed the company to WestwoodOne and helped orchestrate its sale to radio broadcasting company Cumulus Media. Today, WestwoodOne remains the largest audio network in the U.S.
Caine left WestwoodOne and joined Bloomberg Media as global chief revenue and client partnerships officer. He left Bloomberg in 2016 and has since devoted his professional time to Engine Group, Telaria and PC Ventures. PC Ventures' investments include Blue Marble, an organic ice cream company that sells to companies like Starbucks and Whole Foods, and Wolf + Friends, a social networking and content platform for mothers of children with special needs.
Caine has a particular passion for issues related to families, mothers and children. In 2007, Caine and his wife started Griffin Cares at Englewood Health in New Jersey in memory of their son, Griffin. Griffin Cares supports families who have experienced infant loss.
Caine is a member of the Advertising Hall of Achievement and the MIN Hall of Fame, and has been recognized with many industry awards, including Radio Ink's 40 Most Powerful People in Radio, the Adweek 50, Crain New York's "40 Under 40" and the Advertising Club of New York's President's Award. Caine has received the Distinguished Alumni Awards from IU's College of Arts and Sciences (2010) and The Media School (2019). Caine serves on The Media School's Dean's Advisory Board.