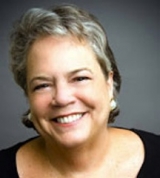 Awards
College of Arts and Sciences Distinguished Alumni Award (2011)
About Carolyn K. Reidy
From her earliest days as a reader, when she'd hide under the covers with a flashlight and a novel, "not wanting to do something so prosaic as go to sleep," Carolyn Reidy chose books that made an explicit point of engaging the audience and quite literally drawing it into the story. "There was a series of historical novels with titles like You Were There at the Signing of the Declaration of Independence or You Were There at the Oklahoma Gold Rush," she remembers. "Every book had a little boy and a little girl in it that were meant to stand in for the reader."
This initial appreciation for the potential connection between books and readers grew into a passionate interest in the writer-reader relationship, which Reidy explored as a doctoral candidate in the Department of English in IU's College of Arts and Sciences. Her dissertation dealt with the emergence of the unreliable narrator in the high Victorian novel and how that narrative style created a new type of reader who didn't need to be led through the text.
"The ability to conduct a close textual analysis and examine what the author was trying to do with the writing has stood me in good stead to this day," says Reidy, who was the CEO of Simon & Schuster and a 2011 Distinguished Alumni Award recipient. "When we're looking at books to publish, we have to ask not only, 'Is it good?' but also 'Who is the audience and can we figure out how to reach it?' And, 'What relationship does the author imagine with the reader?'"
For Reidy, facilitating that relationship is what makes her job so compelling. She originally enrolled at IU with the expectation of working in academia, but when she took an entry-level job in publishing