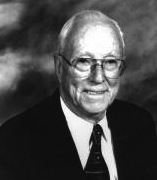 Awards
School of Public Health John R. Endwright Alumni Service Award (1992)
About Leroy Z. Compton
Leroy Z. Compton was an athletic director. He graduated from Butler University in 1948 and obtained his master's degree in physical education from Indiana University in 1952. During his collegiate career, Compton participated in football, basketball, and baseball, lettering in basketball. After graduating from Butler, Compton signed with Pittsburgh Pirates to play minor league baseball with the Kingston Ponies in Ontario. He soon returned to Indiana and became a teacher and coach at Moral Township High School, Bluffton High School, Shelbyville High School, and Indianapolis Manual High School for the next seventeen years.
In 1964, Compton and his family moved to Oak Park, IL, where he became the athletic director at Oak Park and River Forest High Schools until 1970. He then became the athletic director for Proviso West and Proviso East High Schools in Hillside and Maywood, IL. Compton went back to Indiana in 1976 to become the Supervisor of Athletics and Physical Education with Indianapolis Public Schools until he retired in 1985.
Throughout his career, Compton has received numerous awards. He received the School of Health, Physical Education, and Recreation John R. Endwright Alumni Service Award from Indiana University in 1992, and was inducted into the Indiana Basketball Hall of Fame in 1994 and nto the National Council of Secondary Schools Athletic Directors Presidential Hall of Fame in 1999. In retirement, Compton remained active in the local community. He served as the president of the Indiana Basketball Hall of Fame from 1998-1999, president of the Franklin Township Historical Society, treasurer of the Acton Cemetery Association, historian for the Indiana Interscholastic Athletic Administrators Association, and on the board of directors for the Ruster Foundation.