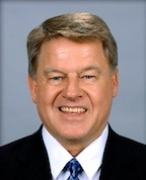 Awards
School of Public Health John R. Endwright Alumni Service Award (1997)
About Dean Kleinschmidt
Dean Kleinschmidt, a 1970 IU graduate, is the coordinator of athletic medicine/head athletic trainer for the Detroit Lions football team in the National Football League. Before the Lions hired him in 2007, Kleinschmidt was the head althletic trainer for the Indiana University football team. He also was the the head athletic trainer for the Washington Redskins (2002-03) and the administrative director at East Jefferson Hospital Wellness Center in Metairie, La. (2001-02). Kleinschmidt began his career as an assistant and head athletic trainer for the New Orleans Saints from 1969 to 1999. In 1971, he was promoted to head athletic trainer, becoming the NFL's youngest ever head athletic trainer at the age of 24.
Kleinschmidt earned a bachelor's degree in health and safety with a focus on athletic training. He has been recognized for his work, having been inducted into the Senior Bowl Hall of Fame (2008), Southeastern Athletic Trainers Association Hall of Fame (2007), New Orleans Saints Hall of Fame (2002), National Athletic Trainers Association Hall of Fame (1994) and the Louisiana Athletic Trainers Association Hall of Fame (1990). Kleinschmidt was awarded the National College Football Foundation Athletic Trainer of the Year in 2003, and he has received distinguished awards from Indiana University and the U.S. Sports Academy. In 1986, his staff for the Saints was named the NFL Athletic Training Staff of the Year.
Throughout his career, Kleinschmidt has been active in the community. He has coordinated all sports medicine efforts at the Senior Bowl All-Star Game in Mobile, Ala., since 1971. He served on the board of directors and as president, including three terms, of the Professional Football Athletic Trainers Society. He also has been a member of two NFL advisory committees to the Commissioner: Drugs of Abuse & Alcohol and Anabolic Steroids & Related Substances.