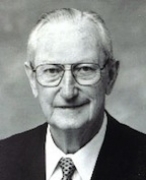 Awards
School of Public Health John R. Endwright Alumni Service Award (1998)
About C. Harold Veenker
The postwar period in America saw great changes in health education, and C. Harold Veenker was among the pioneer educators who led the transformation. After service in wartime as a Marine Corps officer, Veenker worked for nine years as a public school teacher before coming to IU to obtain his doctorate. As a result of these early experiences, Veenker always maintained a balance between the practical and the theoretical in health education.
Veenker graduated from Iowa State Teachers College (renamed as University of Northern Iowa) and received his H.S.D. in 1957 from Indiana University. He served in the Marine Corps during World War II, having trained with the 28th Regiment of the 5th Marine Division that took part in the invasion of Iwo Jima, and was awarded a Purple Heart for his efforts in the war. His teaching experience prior to enrolling at IU were spent in Osage and Mason City in Iowa. In addition, Veenker spent his summers during this time studying for his master's in health education at University of Northern Colorado.
Starting as an assistant professor at Purdue University in 1957, Veenker rose to become an associate professor in 1961, and a full professor in 1966. Veenker served as chairman of the Health Education Section at Purdue from 1961 through 1976. He wrote the Veenker Health Knowledge Test and was the editor of the first Synthesis of Research in Health Instruction, a series that has become a standard reference in the field. In 1969, he served as president of the Indiana Association of Health Educators. Veenker retired in 1984 with the title of professor emeritus and moved to Palo Alto, CA, where he would pass away in 2008.