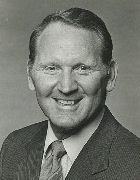 Awards
School of Public Health John R. Endwright Alumni Service Award (2001)
About George H. Oberle
Dr. George H. Oberle was an educator who taught at numerous Indiana high schools and universities including Mooresville High School, North Central High School, Indiana State University, Chicago State University, and Oklahoma State University. He earned his A.B. from Earlham College in 1952, M.S. from Butler University in 1956, and a P.E.D. from Indiana University in 1969. In addition to his career in education, Dr. Oberle served in the Army Reserve Corps and worked as a basketball referee in the Big 10 and Big 8 conferences.
As an educator, Dr. Oberle was a strong advocate for the disabled. He worked in Indiana's first Special Olympics Games and helped develop the Special Olympics Unified Sports Program. President Reagan appointed him to the National Council on Disability, where he helped write and pass the Americans With Disabilities Act. Dr. Oberle was also active in the local community, having coached Babe Ruth baseball, and helped establish the Marian, Indiana Boys Club. When he moved to Sarasota, FL, he assisted in establishing the Sarasota Area Sports Commission. In addition, Dr. Oberle provided leadership at Beneva Christian Church, served on the Board of Directors for Siesta Key Association, Siesta Key Condominium Association, Anchorage Condominium Association, and The Sandpiper Beach Club.
He received the School of Health, Physical Education, and Recreation John R. Endwright Alumni Service Award from Indiana University in 2001.