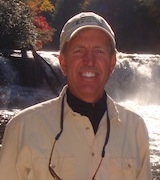 Awards
School of Public Health John R. Endwright Alumni Service Award (2002)
About James Garges
James R. Garges, CPRP, is the Director of the Mecklenburg County Park and Recreation Department in Charlotte, NC. Previously, He has served as the Director of the Cincinnati Recreation Commission, Cincinnati, Ohio (2001-2007); Director Kettering Parks, in the Recreation and Cultural Arts Department, City of Kettering, Ohio (1986-2001); the Deputy Director of Parks and Recreation of Topeka, City of Topeka, Kansas (1985-86); Superintendent of Recreation, Parks and Recreation of Topeka, City of Topeka, Kansas (1983-85); and Director, Delaware Department of Parks and Recreation (1979-83). During his career, Garges has also served as an adjunct professor at Ohio Wesleyan University, Washburn University, University of Cincinnati and the University of Dayton. During Garges' tenure in Kettering, the city received the Gold Medal Award, The National Excellence in Aquatic Award, and the NRPS Kudos Award as Best Overall Communicator. Kettering was the first accredited Park and Recreation Department in Ohio, and the Cincinnati Recreation Commission was also accredited while he was its director.
Garges received his B.S. in Recreation and Park Administration (1974) and his M.S. in Recreation and Park Administration from Indiana University, in Bloomington, Indiana (1978).
Garges has served as Chairman, State of Ohio Parks and Recreation Advisory Council (1997 to present); State of Ohio Recreation Resources Commission (1996 - present); NRPA Chairman National Issues and Action Committee (1998-00); Indiana University Executive Development School Board of Trustees (1997-00); and Chairman, National Recreation and Parks Association Great Lakes Regional Council (2000). He has also made numerous presentations to professional audiences. Garges has received the Indiana University - Garret Eppley Distinguished Alumni Award (1998); National Recreation and Park Association - Great Lakes Professional of the Year (1994); and the Ohio Parks and Recreation Association - Outstanding Professional Leadership Award (1993).