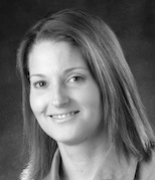 Awards
School of Public Health John R. Endwright Alumni Service Award (2002)
About Elizabeth Majestic
Elizabeth Majestic is the Associate Director for Program Development for National Center for Chronic Disease Prevention and Health Promotion in Centers for Disease Control and Prevention, based in Atlanta, GA. She is also an associate adjunct professor in the Institute of Public Health at Georgia State University and a senior executive fellow in the John F. Kennedy School of Government at Harvard University. Majestic received her bachelor's degree in physical education in 1987 from WVU and earned her master's degrees in public health (1989) and health promotions (1988) from Indiana University.
For the past 20 years, Majestic has served in various positions with the US Centers for Disease Control and Prevention and the US Department of Health and Human Services. She served as the Acting U.S. Deputy-Assistant Secretary for Disease Prevention and Health Promotion at the HHS and worked to establish the Coordinating Center for Health Information and Service to help people, families, and communities protect their health and safety. During her tenure as Acting Deputy Assistant Secretary for Disease Prevention, Majestic developed several national health initiatives including Steps to Healthier US that the President of the United States launched in 2002. She also served on the US delegation to the World Health Assembly and was a member of the working group for the Framework Convention on Tobacco Control.
From 2000-2003, Majestic was the Associate Director of Policy, Evaluation, and Legislation. In 2003, she was promoted to her current position at the CDC. In the past decade, Majestic established two new centers at CDC; the National Center for Public Health Informatics and the National Center for Health Marketing.
She received the School of Health, Physical Education, and Recreation John R. Endwright Alumni Service Award from Indiana University in 2002.