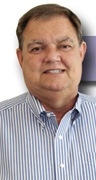 Awards
School of Public Health John R. Endwright Alumni Service Award (2003)
About Steven Kintigh
Steve Kintigh attended Trinity University and graduated with a degree is business in 1976. He then enrolled in graduate school at Indiana University, accepted a partial assistantship with the division of recreational sports, and earned his M.S. the following year. This opened the door to a full-time position at the University of Dayton. He was offered the job as assistant director primarily due to the fact that he had attended IU. After seven years at Dayton, the opportunity to return to Texas as a director of recreational sports opened. Kintigh was hired as the first director of recreational sports at Texas Christian University at the age of 30, in 1984. He remains at TCU as the director of campus recreation.
Looking back over Steve's career it is easy to see that he was highly motivated toward serving the profession and the community. As you review his resume' you notice a number of others "firsts." They include host of the Indiana State Recreational Sports Workshop, host of the National Intramural Recreational Sports Association (NIRSA) Mid-east Regional Conference, host of the NIRSA Region IV Conference, president of the Ohio Recreational Sports Association, president of "Kids Who Care", a non profit children's organization in Ft. Worth, recipient of the Ohio Recreational Sports Honor Award, and recipient of the TCU Chancellor's Award for University Programming.
Additionally, Steve has been selected for four other TCU service awards, has been active in his church where he currently serves as a trustee, has served on the YMCA Board, and volunteered for the Adopt-a-School program. Professionally, he has made over 20 regional and national presentations, published three articles, served on numerous NIRSA committees, been assigned to two NIRSA Presidential Task forces, received the NIRSA Service Award, and been presented with the NIRSA Region IV Award of Merit. Last but not least, this spring he opened a 216,000 sq. ft., $30 million recreation center at TCU. Coincidentally, but not surprisingly, another IU grad, Mary Ellen Milam, was Steve's most significant support through this project and works as his associate director.