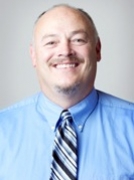 Awards
School of Public Health John R. Endwright Alumni Service Award (2004)
About John C. Ozmun
John Ozmun is a professor in the Division of Health and Human Performance at Indiana Wesleyan University. Previously, he was a professor and chair of the Department of Physical Education at Indiana State University and former associate dean of its College of Health and Human Performance. He received his Master of Science degree from Indiana University in the area of adapted physical education. His doctoral areas of study were motor development and adapted physical education. Prior to his appointment at Indiana State University he was a faculty member at Portland State University and served in the role of associate director of the Center for Youth Development at the National Institute for Fitness and Sport.
Ozmun has presented and published extensively in the area of physical activity of young children with and without disabilities. He has numerous presentations at the national meetings of the American Alliance for Health, Physical Education, Recreation and Dance, and the American College of Sports Medicine. Internationally he has presented at the International Pre-Olympic Scientific Congress, the World Congress of the International Council for Health, Physical Education, Recreation, Sport & Dance, the Cooper Institute Conference Series, the International Conference on "The Young Child: Moving to Learn", and the World Congress & Exposition on Disabilities.
Ozmun's publication record includes articles in Medicine and Science in Sports and Exercise and the Journal of Physical Education, Recreation, and Dance. Additionally, he is co-author of the text Understanding Motor Development with David Gallahue. He has authored or co-authored several chapters in texts such as Adapted Physical Education and Sport, Foundations of Exercise Science, and Handbook of Research on the Education of Young Children.
Some of the honors Ozmun has received over the years include the 2004 Indiana University School of Health, Physical Education, and Recreation John R. Endwright Alumni Service Award, the 2003 Recognition Award from the Physical Fitness Council of AAHPERD, the 2000 Indiana State University Caleb Mills Distinguished Teaching Award, the 1993-94 Young Professional Award of the Midwest District of AAHPERD, and the 1993 Young Professional Award from the Indiana Association for Health, Physical Education, Recreation and Dance.