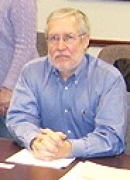 Awards
School of Public Health John R. Endwright Alumni Service Award (2006)
About Peter Cunningham
Dr. Peter Cunningham is a Professor of Recreation and Leisure Services at Middle Tennessee State University. He also serves as the Associate Dean in the College of Graduate Studies. Dr. Cunningham considers himself to be one of the very luckiest of people. As a first generation college student he has had the opportunity to earn three university degrees including a doctorate in park and recreation management from Indiana University in 1985. As a professional he has served in leadership positions in public recreation (Director of Parks and Recreation, Daviess County Kentucky) and association management (Executive Director of the Indiana Parks and Recreation Association). As a professor he has had the opportunity to be a member of the faculty of three accredited academic programs (Longwood College, Florida State University, and Middle Tennessee State University). In each stage of his career he has benefited from the opportunity to work with and learn from some of the outstanding leaders in the parks and recreation profession.
During his academic career he has published in a wide range of academic journals, presented his research at national and international symposia, and had the opportunity to deliver invited lectures at three international universities. He has also served in a variety of administrative positions including Curriculum Coordinator, Graduate Coordinator, Assistant to the Dean and Interim Associate Dean of the College of Graduate Studies, and Director of the Ronald McNair Post-baccalaureate Achievement Program. In addition to teaching and administrative duties he has served as Principal Investigator on research contracts and grants totaling almost $2,000,000. He is honored to have been recognized by his peers through their election of him to the Presidency of the Society of Park and Recreation Educators for 2005-2006.
Dr. Cunningham and his wife Karen have two children, Sarah and Ben. They are members of First United Methodist Church of Murfreesboro where Peter served as chair of the Trustees. He is also past chairman of the Richard Siegel Foundation and is involved in a number of community activities.